This article was generated by AI from the YouTube transcription of the video:
How to Get Transcript of YouTube Video - YouTube Videos to Text by Gauging Gadgets.
A Comprehensive Guide to Transcribing YouTube Videos
In a digital era where content is often presented in visual or auditory formats, possessing the skill to translate multimedia resources into text is invaluable. This article outlines a simple, cost-free method to transcribe any YouTube video. This capability has numerous possible applications, including making material more accessible to individuals with hearing impairments and facilitating qualitative data analysis in research.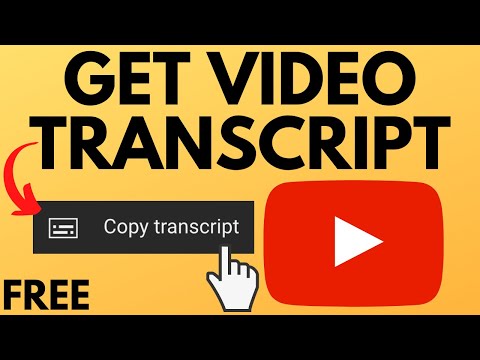 .
The Steps to Transcription
The following steps will guide you to obtain a text version of a YouTube video:
Selecting a Video: Navigate to your desired YouTube video.

Accessing Video Options: Locate the button with three horizontal dots located to the right of the video title above the description. Upon clicking, a menu will appear.

Displaying the Transcript: From the menu, select 'Show transcript'. The transcript will subsequently be displayed for that YouTube video.

Selecting the Text: To download the text, click the three vertical dots button in the top right corner of the transcript and select 'Toggle timestamps'. The timestamps will disappear, leaving the text alone.

Copying the Transcript: In the last step, select the text and copy it. The transcript is now ready to be pasted anywhere you need it.
Understand the Disclaimer
It's crucial to be aware that the transcript feature in YouTube may produce auto-generated transcripts or transcripts submitted by the video's creator. This means that the accuracy of the transcription may vary. However, for an intuitive, free feature, it's an effective start to obtaining a text version of a YouTube video's content.
Support and Subscriber Info
Anyone interested in growing their YouTube channel can benefit from TubeBuddy's toolkit. It's also worth checking out other tools like StreamYard for live streaming, or Nord VPN for secure browsing.
Users and subscribers can express their support or make donations via PayPal. Links to these opportunities and more can be found through the associated social media accounts, such as Facebook, Twitter, Reddit, Instagram, and Twitch, or through vendors like Amazon and Legion.
Do note that some links may include affiliate programs, which means a small commission can be earned from qualifying purchases. This supports the platform and helps create more insightful content for users.
In conclusion, obtaining a text version of the spoken content in a YouTube video is a quick and straightforward process. Utilising these instructions can assist in your goals, be it for accessibility, data collection, or personal use.
Generated from the video How to Get Transcript of YouTube Video - YouTube Videos to Text by YouTube Transcript Generator.